Research Symposium of the Department of Chemical and Process Engineering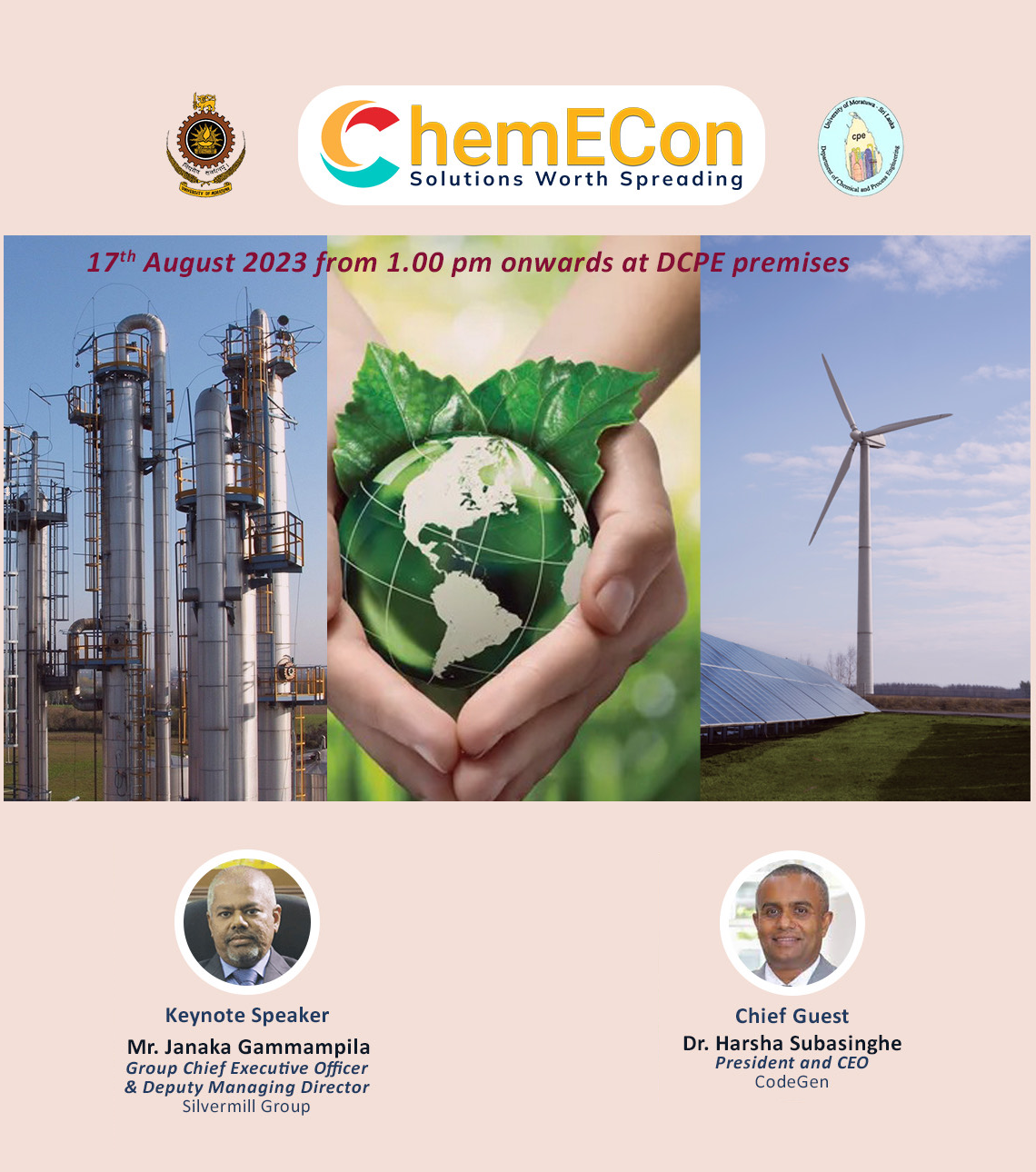 ChemECon 2023", scheduled for August 17, 2023, marks the third iteration of the undergraduate research symposium organized by the Department of Chemical and Process Engineering (DCPE) of the University of Moratuwa. This event, set to be held at the DCPE premises, aims to spotlight the innovative prowess of fresh graduates who will present the novel findings final year research projects in three engaging sub-sessions: "Process Development and Optimization", "Environmental Engineering and Process Safety", and "Energy Engineering and Clean Technology".
Dr. Harsha Subasinghe, President and CEO of CodeGen International (Pvt) Ltd will be the Chief Guest and Mr. Janaka Gammampila, Group Chief Executive Officer of Silvermill Group will be the Keynote Speaker of ChemECon 2023. These distinguished figures will undoubtedly share their valuable insight, underscoring the intrinsic link between research and a nation's developmental trajectory.
The symposium's significance lies in its potential to catalyze the country's progress by unveiling novel ideas and innovative approaches. 
ChemECon 2023 is not only a testament to academic excellence but also a platform for fostering collaboration and cross-pollination of ideas. The convergence of the innovative concepts, technical acumen, and unwavering enthusiasm showcased by the final-year research projects conducted at DCPE is anticipated to yield groundbreaking insights, thereby highlighting the potential of the Chemical and Process Engineering discipline to influence the trajectory of the industry and society as a whole.